Comments for Sunday, November 6, 2022, thru Sat., Nov. 12, 2022:

November 10, 2022 - A week ago, I wrote a comment about how the price of gas at the station down the street from me had jumped 35 cents over the day before, the biggest one-day price jump I'd ever seen. I suspected it was political, a Republican attempt by the gas company owners to generate votes from people concerned about inflation.

The day after that 35 cent price jump, the price dropped 10 cents. Two days later it dropped another 10 cents. And three days later, on the day after election day, it dropped another 10 cents. What was the basis for those price changes if it wasn't political? I don't think that station fills its underground tanks more than once a month, so it can't have anything to do with how much the station pays for gas.

Meanwhile, I'm continuing to listen to lots of Everything Everywhere Daily podcasts. However, listening to them in reverse order (newest first) was becoming annoying. The host was constantly referring to podcasts I hadn't yet listened to. That was the way the episodes were presented in the www.podbean.com link I was using to download the podcasts into my MP3 player. And it would have been extremely time-consuming to try to download the oldest episodes first. So, yesterday I looked for a faster way to download old episodes. I found that the www.podbay.fm link is faster and easier both ways. It has an option to reverse the order of the podcasts, so that you are presented with the oldest first. And the window for downloading is a separate window, so, when you are done downloading, you can go back to where you were in the list, instead of going back to the beginning of the list. I downloaded 68 old episodes using the podbay link in a small fraction of the time it would have taken me to do it with the podbean link.

So, now I'm going to end this comment and start listening to those older podcasts. Of the 857 episodes presented so far in the series, I've listened to about 250 of the newest. And I just downloaded 70 of the oldest. So, unless I decide to read a book instead, I've got plenty to keep me busy as I continue to try to understand this screwball universe we live in.

November 9, 2022 - Hmm. Most of the 2022 mid-term election results are in, and they are nowhere near as bad as I feared. The creepy Republican who was running for governor in my state has conceded defeat. He got 47.8% of the vote, while in incumbent Democratic governor got 51.2% of the vote. The Republican senator who was running for re-election squeaked out a win with 50.5% of the vote.

The write-in campaign promoted by Donald Trump to elect a Wisconsin State Assembly Speaker resulted in Trump's candidate getting about 27% of the vote, while the incumbent got 73%.

In Pennsylvania, Dr. Oz lost his race against John Fetterman. Whew!

In Georgia, it's still too close to call, but Raphael Warnock has 49.2% of the votes, while raving lunatic Hershel Walker has 48.7%. If neither one gets 50%, there will have to be a run-off election in December.

In Arizona, rabid election denier Kari Lake has 49.7% of the vote, while her opponent Katie Hobbs has 50.3%. But only 66% of the ballots have been counted so far.

So, none of those nut jobs who were running to get elected has won, but some of the nut jobs who were running to stay in office are staying. And here is what CNN has to say about Trump's role in the election:

Trump has traveled across the country, stumping for Republicans at huge rallies that mirrored event programs of his past presidential campaign stops — implicitly framing himself as the leader of the party. Now, as Republicans begin to reckon with what the results mean, they'll also have to address whether Trump's agenda will help or hurt in the 2024 elections.

A Trump adviser who has been in contact with Trump's inner circle told CNN that the former president is "livid" and "screaming at everyone" after the results.

So, while the results are mixed, if Trump is upset, that's a good sign.

November 8, 2022 - Back on November 2, after I voted early, I wrote this comment on this web site:

there were four or five Republicans who were running unopposed for minor offices. I was supposed to write in some name, but I didn't know who to write in. One such Republican candidate was a puzzle to me, since I've seen lots and lots of signs on lawns promoting him, yet he is running unopposed. Are the signs just there to try to make sure he doesn't get an embarrassingly low number of votes? Next week we'll all find out if that happened.

Yesterday, I received a robocall from Donald Trump, and Trump explained (indirectly) why I probably should have voted for one of the Republican candidates who was running "unopposed".) Trump's call asked me to write in the name of the candidate he was supporting. Trump's candidate wanted to overturn the 2020 election. The candidate who was running "unopposed" fully accepted the results of the 2020 election.

It's too late for me to do anything. My votes have been cast. But I now have one more reason to watch tonight's results. There was one Republican who I thought was running "unopposed," but really isn't, and I definitely should have voted for the Republican who had the courage to disagree with Trump.

November 6, 2022 - Yesterday, I spent most of the day finishing a book I'd been reading on my Kindle. The book was "American Psychosis: A Historical Investigation of How the Republican Party Went Crazy" by David Corn.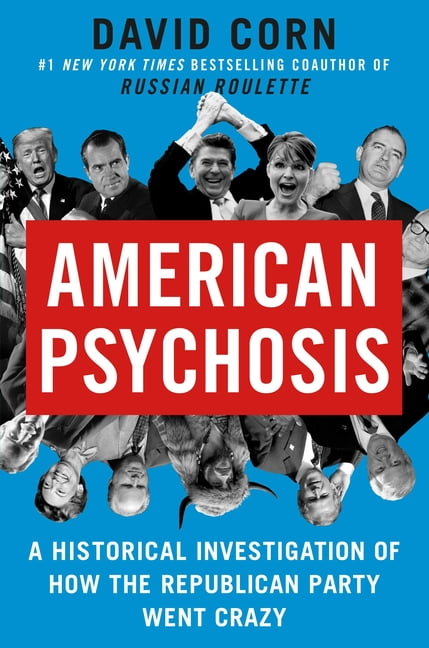 Wow! What a depressing book! But it is also very interesting and informative. For the past couple weeks I'd only been reading it during breakfast and lunch, but a few days ago I decided to spend my mornings and afternoons reading it. Finishing it would give me something to write about in this Sunday comment.

Among many other topics, the book addresses an issue that most people today seem to have forgotten or never knew:

For a century, the GOP had been the Party of Lincoln and the party most supported by Black voters, while the Democrats had included a Southern contingent tied to slavery, Jim Crow, and segregation. [George] Wallace had been a Democrat. [Strom] Thurmond had been a Democrat. But in the late 1950s and early 1960s, the tectonic plates shifted.

The late 1950s and early 1960s were when Dwight D. Eisenhower and John F. Kennedy were Presidents. Theirs was a time when stopping the spread of communism was seen as the #1 task for Americans. It was also a time when people started looking for signs of communist behavior in their next door neighbors. Everyone was viewed with suspicion, and every statement was evaluated for signs of communist beliefs.

That led to widespread paranoia. And somehow the Republicans - Wisconsin Senator Joe McCarthy being a prime example - began seeing communists and communist plots everywhere.

That paranoia morphed over the years into a fear and hatred for anything that might look like a threat to "the American way" - which included anyone who looked or talked different. Racism and distrust of foreigners began to rage. To non-Catholics, the Pope was seen as another dictator trying to take over America. And when Donald Trump came along, he was viewed as a crusader trying to prevent changes to the American way. Here's another quote from the book:

Trumpism didn't start with Trump. It might have been a tough truth for Republicans and conservatives to handle. But the party had frequently relied on racial resentment and patriotic animus to power its way into office. Sometimes it had done so behind a veil of euphemisms and smiles. Yet with Trump as the Republican nominee, the party exchanged a dog whistle for a megaphone. Trump had openly displayed bigotry, validated hatred, and fueled paranoia and xenophobia. He had unapologetically engaged in demagoguery and spread disinformation and fear to rally and rile up supporters. He had emboldened extremists and kooks. He had encouraged and exploited the worst elements of American life. And the party—its leaders and its voters—yielded to him. Trump was not an aberration. He was the soul of the party.

Another quote:

Senator Corker described the situation bluntly: Republicans had become "cultish" and "fearful" under Trump. Trump had transformed the party into an organization with only one mission: him. As Corry Bliss, executive director of the Congressional Leadership Fund, a super PAC supporting House GOP candidates, explained, "It's not about ideology anymore. It's only about Trump. Are you with him or are you against him? That's the only thing that matters to voters in the Republican base." The GOP had become a cult of personality.

I look with dread at Tuesday's election. There are Trump supporters running for key offices in my state, including governor. And one idiot Trump supporter is looking to be re-elected to the Senate. The fact that he's generally viewed as one of the dumbest Senators we have seems to be viewed as a good thing by many. Evidently, it makes him less of a threat, and less likely to make some changes to "the American way."

"American Psychosis" is an excellent book if you want to understand how American could elect someone like Trump. And since we tend to vote out whichever party is in power, that could mean that we might elect Trump for a second time in 2024.