Comments for Sunday, July 23, 2017, thru Saturday, July 29, 2017:

July 28, 2017 - Groan! I'm constantly getting sidetracked. But, it isn't really "getting sidetracked," it's research. I must have spent HOURS yesterday trying to track down the source of this quote supposedly from Albert Einstein:

"Time has no independent existence apart from the order of events by which we measure it."

I found many places repeating the quote, but I couldn't find any book or paper or lecture or letter where Einstein actually said or wrote those words. They're important, because my my paper on Time Dilation says, "The Time Dilation experiments indicate that Time is an effect resulting from some property of matter." And that is in direct conflict with what Einstein supposedly wrote. So, if Einstein really said those words, I probably need to explain why I contradict them in my paper. As a result, I'm doing more research.

This morning, I read a couple posts on the Google Science, Physics and Relativity forum that were VERY interesting. They contained lots of very interesting links, and one of them was to a book by Richard Feynman titled "QED: The strange theory of light and matter," which has this on page 15:

I want to emphasize that light comes in this form—particles. It is very important to know that light behaves like particles, especially for those of you who have gone to school, where you were probably told something about light behaving like waves. I'm telling you the way it does behave—like particles.

I found an .epub version, so it is going on my list of books I need to read. And finding that book caused me to locate an .epub version of "Six Not-So-Easy Pieces," which was also written by Dr. Feynman and appears to contain a lot of very interesting topics.

Another post on that Google forum led to a quote by Stephen Hawking, from his book "A Brief History of Time", Chapter 3:

"Now imagine a source of light at a constant distance from us, such as a star, emitting waves of light at a constant wavelength. Obviously the wavelength of the waves we receive will be the same as the wavelength at which they are emitted (the gravitational field of the galaxy will not be large enough to have a significant effect). Suppose now that the source starts moving toward us. When the source emits the next wave crest it will be nearer to us, so the distance between wave crests will be smaller than when the star was stationary."

I have a hardcover copy of "A Brief History of Time" in my personal library, but I didn't have a searchable pdf file. So, now I do. And I can use that quote from Prof. Hawking to show that there's an alternative to Hawking's logic. If light consists of particles, as Dr. Feyman says, and if particles are emitted faster than their wave motion can complete one cycle, you have - in effect - overlapping waves. In the paper on waves versus particles that I've been writing, I show how if a star is moving toward us, the frequency of the arriving light particles will be greater than the measurement you would get if you assumed that each wave was followed by another wave. You'd get a frequency where some of the particles moving in wave patterns are slightly overlapping or even side by side. And Prof. Hawking's comment also poses the question: How does the star know it is "nearer to us"? And the question: Doesn't that presuppose that the source is moving relative to something other than us? And the question: Is there a way to tell if he source is moving toward us versus us moving toward the source?

Getting a paper written isn't just a matter of writing down words, it is mostly the process of making sure the words are correct. And that requires research. Groan! Lots of research.

July 26, 2017 - This morning I found an email in my inbox from Journal #7 rejecting my paper on Time Dilation. That was quicker than I expected. Maybe I should have guessed it would happen quickly because of the email I received from them yesterday. They asked why I hadn't attached any "Figure files" to the paper I had submitted. I responded by telling them that my paper had no Figures (illustrations) to attach, it was straight explanatory text.

After sending my response I wondered if I should have mentioned that my paper used logic, not mathematics, therefore I didn't need any illustrations to explain the mathematics. I wondered if they would have taken that as a snippy or sarcastic response. But, it doesn't make any difference now.

Of course, they didn't point out any errors in the paper. They just stated that "it does not meet the journal's acceptance criteria." I guess they didn't consider my research to be "original," and/or they didn't think my total overhaul of current thinking about Time Dilation to be a "significant advance" in understanding physics.

I could just send the paper out to Journal #8 this morning, but I recently came across something while reading David Bohm's book on "The Special Theory of Relativity" that really got my brain to working at high speeds.

A few days ago, while reading Bohm's book in .mobi format on my Kindle during either breakfast or lunch, I came across a description of Einstein's Train-Embankment thought experiment on pages 40 to 43. I didn't want to stop reading at that point in order to study what Bohm wrote, so, after my meal, when I returned to working on my computer, I located a pdf copy of the book and studied those pages more carefully. Then I made a .docx copy of the pages and started highlighting and making notes, trying to fully understand what Bohm was saying.

Back on June 21, I wrote a comment about a different book that mentioned the Train-Embankment experiment. The book was "Spacetime Physics" by Edwin Taylor and John Wheeler. That book says this on page 64:

For the observer standing on the ground, the two lightning bolts strike the front and back of the train at the same time. Therefore for him the distance between the char marks on the track constitutes a valid measure of the length of the train. In contrast, the observer riding on the train measures the front lightning bolt to strike first, the rear bolt later.

But in Bohm's book it says this on page 40:

Now consider an observer O' on the moving train. Suppose that O' happens to be opposite to O when O receives the two flashes from A and B. Of course, O' will also see the two flashes at the same time.

Here's Einstein's diagram of the Train-Embankment experiment from page 25 of his book Relativity: The Special and General Theory:

The situation involves two bolts of lightning simultaneously striking points A and B on the embankment. Observer M, who is stationary on the embankment and equal distance from both points A and B, sees and measures the two bolts of lightning to have struck simultaneously.

For some reason, Bohm changed M to O and M' to O'. But Taylor and Wheeler said that the observer on the train would measure the lightning bolt that hit point A to have hit first. Bohm, however, says that O (M) and O' (M')will both see the flashes from the lightning bolts at the same time.

It took me awhile to realize that, in Einstein's diagram, if lightning struck points A and B simultaneously, both M (the observer on the stationary embankment) and M' (the observer on the fast moving train) would SEE the strikes occurring at the same time. They are side by side, equal distances from points A & B, and light from the lightning bolts travels the same distance for both of them.

HOWEVER, if M' on the train had some capability to measure the speed of light, he would measure the light from A to be traveling at the speed of light (c) minus the speed of the train (v), because the train is moving away from point A. And he would measure the speed of light coming from point B to be traveling at c + v, the speed of light plus the speed of the train.

So, they SEE the light arriving at the same time because they just happen to be positioned right next to each other, but they MEASURE the light to be traveling at different speeds. That is a situation I hadn't realized and thought about before.

Going back and reading what Einstein wrote (translated into English), it seems he was talking about what is observed by M and M' if they were next to each other when the lightning bolts struck, NOT when they see the flashes. In that case, you really have a simultaneity problem. M on the embankment will still see the flashes occur simultaneously, but M' on the train will NOT. M' will first see the flash from B because he is moving toward it, and then he will see the flash from A, because he was moving away from A. Here is what Einstein wrote:

Now in reality (considered with reference to the railway embankment) he [M'] is hastening towards the beam of light coming from B, whilst he is riding on ahead of the beam of light coming from A. Hence the observer will see the beam of light emitted from B earlier than he will see that emitted from A. Observers who take the railway train as their reference-body must therefore come to the conclusion that the lightning flash B took place earlier than the lightning flash A. We thus arrive at the important result:


Events which are simultaneous with reference to the embankment are not simultaneous with respect to the train, and vice versa (relativity of simultaneity). Every reference-body (co-ordinate system) has its own particular time; unless we are told the reference-body to which the statement of time refers, there is no meaning in a statement of the time of an event.


Now before the advent of the theory of relativity it had always tacitly been assumed in physics that the statement of time had an absolute significance, i.e. that it is independent of the state of motion of the body of reference. But we have just seen that this assumption is incompatible with the most natural definition of simultaneity; if we discard this assumption, then the conflict between the law of the propagation of light in vacuo and the principle of relativity disappears.

Wow! That is NOTHING like what David Bohm was writing about in his book. But, it might relate to what I've been looking for to figure out how Einstein decided that time would run slower for the observer on the train. But, I haven't yet figured out how he came to that conclusion.

However, I noticed that Bohm also says this in his book where he has the light from the lightning flashes reaching O and O' at the same time:

In fact, however, all observers must assign the same speed to light, since as we have seen, experiments show this to be the case. Therefore the train observer can no longer agree that the two flashes are simultaneous, because they cover different distances at the same speed.

Whoa! That is totally wrong! What the hell does "assign" mean in that context!! Is that where the mathematicians get derailed (so to speak)? They believe and endlessly argue that all observers would measure the same speed of light. But they wouldn't! In Einstein's example, they would see the light from both sources arriving at the same time because they were purposely positioned right next to each other, but they would not both measure (or "assign") the light to be traveling at the same speed. Not unless they were mathematicians who understand only mathematics and not how the real world works.

As I understand it, Quantum Theorists consider movement to be an "illusion." They argue that the observer on the train and the observer on the embankment both see light traveling at the same speed because M and M' are points in space at points in time, not moving objects. If you just ignore the whole point of Einstein's thought experiment, then they are right.

I still need to figure out what "length contraction" is all about. It is not logical to me that the length of anything is contracting, but that might be a "gedanken" (thought experimental) way of figuring out something about Time Dilation.

I also need to study what Bohm wrote a bit more. He goes into how Time is viewed in the Train/Embankment thought experiment, but it is all very heavy mathematics. I was tricked into reading the book by this comment from a reader as shown on the Amazon.com's web page for Bohm's book:

Because of its centrality to the book, my advice to the reader is to read the appendix first, or at least at a very early stage of the book, because it is there that the substance of the book takes shape and form. The physics concepts are almost incidental to this underlying conceptual theme.



That said, it must be pointed out that this then is a wholly conceptual, rather than a mathematical book on the Special Theory. No mathematics are needed and none are used.

Really!?!?!? To me it seems that Bohm endlessly gets into deep mathematics, although he sometimes might go for a page or two without using mathematical equations. Maybe, to mathematicians, if you do not use math equations in every paragraph, then you use "no mathematics."

While writing this comment this morning I also did some research and found several other sources about the Train/Embankment experiment that I need to read. I also watched a video about it:


The video doesn't help much. It declares that "there can never be agreement on the simultaneity of events."

Perhaps mathematicians can never be in agreement "on the simultaneity of events," but any intelligent human being or scientist looking at the situation in our real world would see that the two lightning strikes were simultaneous from both perspectives IF the two observers both understand what they and the other observer are seeing and measuring. The purpose of Einstein's thought experiment was to get people to understand the two different points of view, NOT to create a mathematics problem where no two observers can ever agree "on the simultaneity of events."

In our real world, we can understand that the two observers have different perspectives. In the fantasy world of mathematicians, there can never be an agreement, so there can never be an understanding.

I could go on and on, but I have some studying to do. And, I'll probably do it before I try submitting my Time Dilation paper to Journal #8. I really need to understand how Einstein figured out the reality of Time Dilation without ever seeing anyone perform any experiment like the ones today's scientists do every day to demonstrate the reality of Time Dilation.

July 25, 2017 - Shortly after receiving the email from the 6th scientific journal to reject my paper on Time Dilation, I began looking for another journal to try. It turned out that I had picked another journal back on June 25, but never went through with the submission process. I don't remember why, but it was probably because of their rules about formatting submissions. While I've used LaTex to format papers before, I couldn't figure out how to format their way using LaTeX. So, yesterday, I decided to submit it in .docx format, which was an available option. But that also requires a lot of very specific formatting.

It took me the rest of the morning and part of the afternoon to get the paper into the right format. Then came the next part of the process: to go through all the questions they ask. That must have taken me at least an hour. At one point I had to suggest the names of three scientists to critique the paper. I picked the three top living scientists I could think of. There was form after form to read and check. There were very technical legal documents where I had to swear that I didn't steal the ideas in my paper from someone else and didn't copy any tables or charts from anyone else's paper. I kept looking for some hidden clause where they would require a fee to offset publication costs, but all I saw was the option to pay to have the paper made available by "open access." I didn't choose that option.

It was 4:45 in the afternoon when I checked the last box on the last form and my submission was accepted. This morning it is still waiting for an editor to be assigned to it.

Oh, yes, I also spent a few minutes writing a cover letter that briefly explained how I felt my paper fitted their requirements, even though I wasn't reporting on the results of any lab experiments I had done.

I don't know if the paper has any chance of getting published at that journal, but I had to give it a try. It's try #7 for the Time Dilation paper.

July 24, 2017 - I check NASA's Astronomy Picture of the Day web site every morning. This morning's picture was particularly interesting. It shows a man in native garb in Kenya watching a solar eclipse.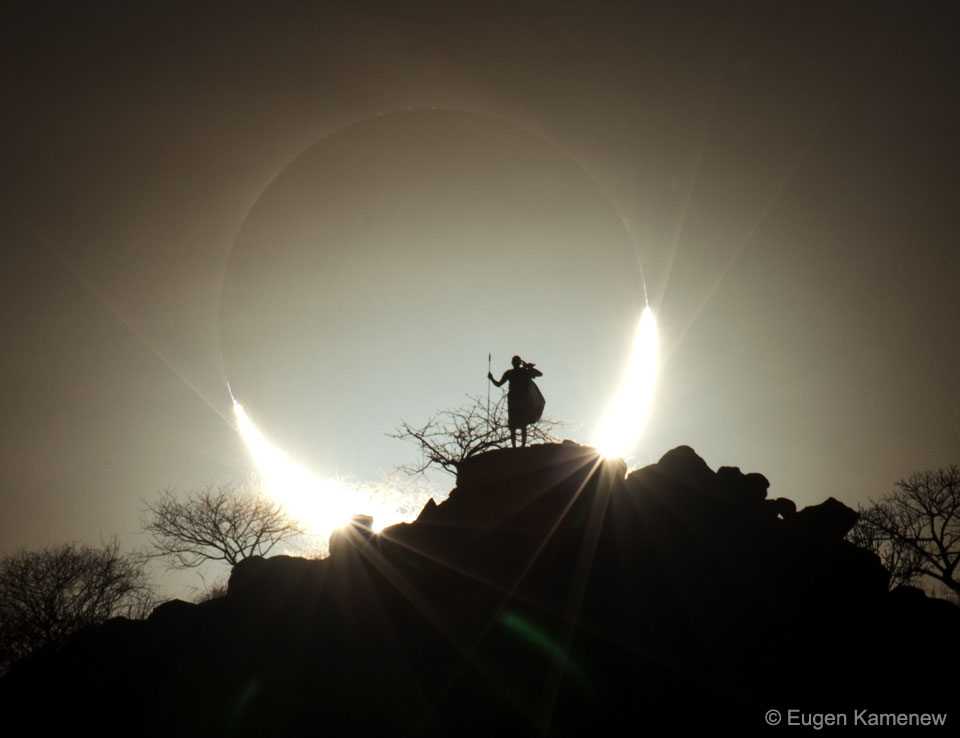 The "trick" for taking pictures like that is to get very far away from the person on the hill and have a very good telescopic lens on your camera so that the sense of perspective is lost and the differences in distances seem small. This morning, they have two different versions of the same picture. Here's the second version:




It's the same picture, except that the upper picture has the sides cropped off. The original probably has a lot more on the sides, top and bottom. The more you can see of what is at the sides of the picture, the more your sense of perspective makes things seem perfectly normal.

Here's another picture from NASA's web site that shows a man walking his dog in front of the rising (or setting) sun:


And below is another picture which shows someone with a telescope standing on a hill in front of the moon. But you probably need to view the full-size version to really see the details of the picture.




I'm not sure what my point is in showing these pictures. I thought the first one was interesting, and then I remembered I'd saved others that did the same thing to affect the viewer's sense of perspective. So, I decided to show them, too.

While I was writing this comment, I received an email from a highly-ranked scientific journal informing me that they weren't the "appropriate journal" for publication of my paper on Time Dilation, since it didn't present "original" research into basic physics.

So, that was rejection #6, and the third in a row with NO comments about the validity of the logic about Time Dilation presented in the paper.

Unfortunately, I haven't got #7 already lined up in my sights. So, I suppose that is what I'll be doing for the rest of the day: figuring out where to try next.

July 23, 2017 - There's a big difference between a fascination and an obsession. I recall that Time magazine once claimed that I was "obsessed" with the anthrax attacks of 2001. In reality, I was just fascinated by it - for about 12 years. As I saw it, people were arguing opinion against opinion, and very few people were looking at the facts and evidence. I was fascinated by what evidence said, and the scientific aspects of the case added to my fascination. I was also fascinated by the people who were totally obsessed with the case. The difference, as I saw it, was they were absolutely certain they knew who did it, and no amount of evidence to the contrary would ever change their minds. (And none has, since they still argue the same arguments today, after 16 years. Click HERE and HERE for two examples.) I didn't know who did it, but for awhile I saw evidence pointing in a specific direction. In 2005, I wrote and self-published a book about the case. It was titled "Analyzing The Anthrax Attacks - The First Three Years."

Here's part of what the blurb on Amazon.com says about the book:

The book concludes that it is an absolute certainty that the person behind the anthrax attacks of 2001 will be more easily brought to justice if the scientific evidence is carefully examined by more people in the scientific community, instead of simply relying upon rumor, speculation, innuendo and baseless conspiracy theories, as has been the situation to date.

Then, on August 1, 2008, the FBI named someone I'd almost never heard of as the anthrax killer. And shortly thereafter, the FBI provided a mountain of scientific evidence to support their case. I spent much of the next six years arguing with people who didn't believe the evidence and still believed they knew who really did it: the same people they had been claiming did it since the attacks occurred in 2001. Evidence didn't matter. Facts didn't matter. They simply knew who did it. It was emotional thinking, not logical thinking. It was Donald Trump's kind of thinking, where facts and evidence mean nothing if you are totally certain you are right.

It took awhile, but my fascination with these "True Believers" slowly waned. In 2012, I wrote and self-published another book about the case, "A Crime Unlike Any Other: What the Facts Say about Dr. Bruce Edwards Ivins and the Anthrax Attacks of 2001." And I eventually lost interest. On December 31, 2014, I stopped updating my web site about the case. The next day, January 1, 2015, I created the web site you are reading now. In my first comment I wrote,

People who are familiar with my web site about the anthrax attacks of 2001 know that one of my main interests is conspiracy theorists, particularly the psychology of conspiracy theorists.

And I started tracking the conspiracy theories related to the Boston Marathon Bombing and various other crimes. It was interesting, and it kept me somewhat busy, but it wasn't exactly "fascinating."

Meanwhile, starting in late 2013 or very early in 2014, I began arguing about Time Dilation with people on various Internet forums. On March 23, 2014, I created a web page about it on my anthraxinvestigation.com site. The page was titled "Time Dilation - As I Understand It." That slowly developed into a new fascination. About a year later, I started writing "scientific papers" about Time Dilation and how it relates to the speed of light. And I argued and argued and argued with people who refused to look at the facts and evidence.

And that's where I am today. It's not an obsession. It's a fascination. I am totally fascinated with the subject of Time Dilation and how there are many people who seem driven by beliefs instead of logic, who argue that Time Dilation doesn't exist - regardless of all the experiments which have shown that it does exist.

I've read many books and papers on the subject, and I've accumulated dozens more that are waiting for me to find the time to read them. And, of course, I am once again trying to get my paper on the subject published.

Meanwhile, I'm trying to analyze the arguments over whether light is a wave or a particle, arguments that have been raging for centuries. It is easy to see that a lot of the logic used in the arguments is just plain absurd. And I can even show how totally absurd it is. But, it isn't very easy to provide a "correct" answer that can be undeniably demonstrated via experiments.

This morning, I wondered if Einstein ever worked in a lab. I knew he wrote all of his most important papers while working as a clerk in a Swiss Patent Office, but did he ever actually do experiments? Doing a little research, I found a Scientific American article titled "Einstein's Only Known Experiment Rebuilt." It says Einstein once built a device to amplify a voltage. He spent 3 years on it, from 1907 to 1910. It never came to anything. The article concludes with this:

Although the device works, the reconstruction confirms that Einstein made the right choice in remaining a theorist. The charge accumulated in the instrument fluctuates by a small amount, probably because of its mechanical contacts. This variability likely renders it too imprecise for the measurements Einstein desired, reports [Danny] Segers [director of the Museum for the History of Sciences in Ghent, Belgium], whose admiration for the great physicist is undiminished. "The amazing thing for me as a physicist is I did not know Einstein was interested in experimental work," he says. "I'm not going to say Einstein used a screwdriver himself, but he certainly understood very
well how things worked."

Einstein was a theoretical physicist. He was terrific at analyzing statistics and figuring out what they meant. And he was famous for his "gedanken," his "thought experiments" which he performed only in his mind. But he wasn't much good at doing actual lab experiments.

So, today we have people doing lab experiments which they claim prove Einstein wrong, but the experiments do no such thing.

And, I'm sitting here in front of my computer on a Sunday morning trying to figure out how to explain how "the Double-Slit Experiment" doesn't prove what the experimenters claim it proves. But I keep hitting the same wall. Something within the slits seems to be acting as a prism. About the only thing it can be is gravity. In Einstein's Theory of General Relativity he showed that gravity can bend light. It's called "gravitational lensing." If gravity can bend light that is passing millions of miles from a massive gravitational source, doesn't that also mean it can bend light that is passing a few picometers from a small gravitational source? Maybe not, but why not?

I find the subject fascinating, but I'm not obsessed with it. I'd certainly like to find something in some book somewhere that would help me either prove or disprove that hypothesis. I'm just curious, that's all. And, of course, I'd like to write another paper about how college physics teachers are teaching total nonsense. That's a totally fascinating situation. I just do not understand why it isn't equally fascinating to many others. Do they have to become obsessed before they will discuss it? I see many people arguing their scientific obsessions on Internet forums. But, unless they are obsessed, it seems they aren't willing to discuss anything.